arwen's coronation dress
Started January 2005
Completed July 2005
As this is my next big project, I decided to do this the right way. I've started to study the dress and come up with my plans to make it. To help me in this costuming, I have spent many hours pouring over the wonderful site of
Alley cat scratch
.
I have decided I'm going to use Simplicity 9103 for the underdress and just make a yoke to go over it.
I've also decided to use either Burda 8695 or 8969 for the overdress, if they still make them. I haven't looked for them at stores yet.
Here are the shoes I bought for the costume at payless:
Update! January 22
I got the undergown muslin done! I was using scraps from my huge pile of leftover fabric to make it. Thatís why its multicolored and only goes down to the hips. The actual dress will go all the way down, I just didn't have big enough fabric pieces. Anyway, I used Simplicity 9103 for the base with Simplicity 9888 for the neckline. I still had to alter it, making it deeper, but it helped me with the shoulder placement. I'm waiting to look at or buy the Burda pattern before I begin that muslin. The yoke I made myself, just tracing the neckline onto the fabric and measuring 3 inches wide.
The sleeves, oddly enough, will probably come from Simplicity 9891. The ones that came with 9103 were too small and made for stretch fabrics only, as I found out the hard way. And quite frankly, I don't feel like altering them. Anyway, tomorrow hopefully, I will be able to buy materials to start work on this.
January 24 Update!!
Yes! I am ready to start working on the sleeves! Yesterday I went to JoAnns and searched and searched for fabric. Nothing. Finally we had the idea to use the back of fabric so I got some satiny stuff, but the wrong side of the fabric will be perfect. (For full story on that disaster see my costume journal) Anyway, I bought some white wedding lace that looks like appliquťs. I dyed that "spring green" for a half hour, which turned the lace a light yellowish green color which will be perfect. The white stretch velvet I found at Handcocks sort of took the dye. I'm looking for new stuff thatís cheap. I think I found some that might work on eBay. Itís listed as icy mint, so I don't know if it will be too blue-ish. I hope not, it comes out to be like $5 a yard and that would be perfect. I'm also supposed to be getting free samples from dollar fabrics... but they haven't contacted me and they said they would so I don't know. Here are some pictures, the last one is kind of dark:
Update!! January 25
Last night I began the sleeves. I used Fraycheck to stop the edges from fraying like crazy. Then today I cut the dyed lace in half and pinned the tops together and the bottoms together to from the shapes I want. I pinned them down to one of the sleeves and began hand sewing them down. I'm actually really excited about doing all this. For some reason, my camera tints everything bluer than it is. My fabric is far greener in real life. It might have had something to do with the fact I took these when my camera was almost out of batteries. Maybe the flash died or something.
January 27
I finished the lace on one sleeve and started beading it! I'm starting the lace on he second sleeve today.
January 30
Update!!!!
I'm done sewing on the lace on both sleeves!! I'm also done sewing in the pearls on the lace. I started beading around them, but I ran out of pearls before I could even finish one. This is going to take a lot of beads. I wonder if I could find a large bucket of pearls. I'm sure it would be cheaper than buying 20 of those little packages. So, being out of pearls, I started the other beads. I have half of one done so far. This is going to take a long time, with very little progress coming quickly. But that's ok, I was prepared and I am ready for the challenge. Bring it on. Pictures soon I think.
February 1
Still beading away...man I'm horrible at it. Hahahaha, good. Here's the disastrous progress, camera still making the green fabric look blue. Itís really green, trust me
I got the samples from Fabric.com. None of them were good, so I'm glad I have that eBay velvet. I ordered the icy mint green stretch velvet from the eBay seller Swords n Silk, it should be here sometime late next week. I bought a large bag of pearls to finish beading. They're cheaper than the other ones I got (I got seriously about 80 times more beads for $1 more) and so they don't match exactly. You can't tell unless youíre about 2 inches away so itís ok.
Here are my progress pictures of the sleeves, from begining to end.
February 13
Another major update!!!! I got my green velvet!!!!!!!! I am so excited!! It's a little shiny for me, but after all I went through looking for this fabric, I could care less. It also is not the exact yellowish green color that the real one is, but since they only used that color because it looked good on Liv... I could care less again. I don't look good in that color, and this one suites me better.
March 1
This weekend I went to Michaels and got a white fabric pen. Then I proceeded to draw squiggles all over the beaded sleeves. It nearly killed me, touching all my hard work with the possibility of messing up and not being able to fix it, but it has gone well so far. I have one sleeve done, and am about 1/4 done with the second. I may need to get a new pen, it kinda stopped working. I'll try to get a picture soon, my camera stopped working again.
March 5
Huge updates!!! I bought some light green stretchy fabric from Handcocks and I have cut out the underdress! I wanted stretch material so I could just pull it on over my head. I know the real one has an invisible zipper on both layers, but for the Ren Faire, I donít think zippers had been invented then. And I just wanted to be able to pull something over my head instead of having to zip myself up. So I cut out the fabric and pinned it together. I haven't sewn it together yet because I may need it to cut out the overdress. It depends what happens with the muslin. This was a horror to make, basically because of my poor pattern choice. The front went great, but I had to use my muslin and about 3 patterns to get the train. The train is too long to be practical in the back, so I have to fix that, but otherwise it turned out really well, thankfully. I also cut out the yoke, which I fraychecked, and I will begin sewing the lace and beading it soon.
March 13
So after my vacation, I had to make up for lost time. So I made the overdress muslin and (gulp) cut the velvet. I don't think the Burda pattern I wanted is still being made, so I went ahead with Simplicity 9103 as a base and altered the top. Very scary, but I think it came out alright. I had a scare with the wrinkles you see on the top of the fabric, but they came out easily with a little ironing. I now have the overdress sewn together, which you can see in the pictures. I need to get fabric for the strap that holds it up. I also got another fabric paint marker and finished the squiggles on the sleeves as well as started the yoke. Now, my research has shown me that the sleeves and yoke are not the same design. What the yoke design is, no one is quite sure, but I made up my own, which is a leafy/curly-cue kinda design. After it dries overnight I have to embroider and bead it, which I will do at school. And I still cannot figure out why this camera does not want to make the fabric look green. It is though, trust me.
March 17 Happy St. Patrick's Day!
Well I began the yoke embroidery. I'm not quite sure what the real pattern was, so I made my own pattern that semi-looks like the real one. Anyway there is a picture of my pattern and my progress.
March 30
Update finally. I am now finished with the embroidery and beading on the front panel of the yoke! Now it's onto the side panels. I think I am just realizing how much beading and embroidery this is going to be. Well, onward!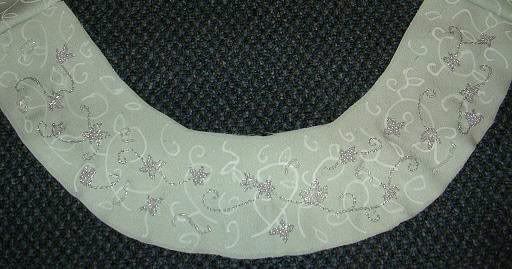 April 23
I finished the beading and embroidery on the entire yoke. I also sewed the lace on, beaded, and squiggled one of the side underarm panels. I am finished the beading on the second one. Picture of the finished yoke.
May 18
I had to take a break from this outfit for a while with final exams and all, but I finaly have updates! I finished both of the underarm pannels and attached them to the underdress. I also sewed silver trim around both of the upper sleeves. They are now ready to be attached to the lower sleeves which I still have to make. Pictures:
May 22
This dress is finally in the end stages. (That's stages, plural, there are still many more things to do). Yesterday I cut out both sets of the lower sleeves, the velvet and the yellow chiffon type material. Today I attached both of them to the upper sleeves and attached the upper sleeves to the underdress. The yellow lower sleeves are finished with a zig zag stitch, I'm not sure what I'm going to do about the velvet. It doesn't fray, so I might just leave it and not finish the edges. While that's not exactly accurate or professional, it would save me time. Hmmm, we'll see. The last picture has the yoke lain over the top to see what it would look like. It's not sewn down yet, I need to put interfacing on the back of it first.
July 4
Happy 4th of July! I have less than 1 week to make this crown so I am going to be very busy. I realized I havn't really said anything about the crown so here is a brief overview. I made the main peices out of Sculpey clay, made the side pieces way too big, remade them much smaller and decided to use the large pieces for the back of the crown. I then bought some 19 gauge steel wire which I have been cutting and shaping to glue to the clay crown pieces. That's as far as I've gotten at this point. Here are progress pictures so far, in order they are the front pieces, side peices, back pieces, and what the back will look like with the wires:
July 18
Finished my crown in time to wear it to the faire. I got a ton of compliments on it, which suprised me and made me very happy. Unfortunatly, the weather was so warm that the glue started coming undone, and by 2 in the afternoon, the front peice had fallen apart. So I had to take it off and stick in in the car. I realized that I never posted pictures of the finished crown, so hear are some. Note, this is after it fell apart and I haven't had time to glue it back together. Once that is done, I will go outside and take pictures in the full dress and crown. (Oh, and just a note, after the Faire, the velvet outerdress was covered in dirt, but I threw it in the wash on delicate and it came out just fine. Looks like I've never worn it. So that made me happy)