cavalier hat
Completed July 2005
After seeing Pirates of the Caribbean, I decided I had to have a "Will Turner hat" as I call it, or a cavalier hat. Well, as I am a complete cheapskate, buying one was out of the question. Well, at least the ones I found. So I decided to attempt to make one. I found a website that has instructions
here
. They are pretty easy to follow, at least that's what I thought, and I'm no expert. But anyway, here's the info:
Fabric:
Black felt, either 70 or 74 inch wide, something like that. I think I got a yard and a half, which was way too much. With fabric that wide you only need about a yard.
Pattern:
I printed off the the instructions
here
and followed them exactly.
Like I said, I followed the instructions off the website, and made the hat. I have it all put together, only...it's kind of tight. So eventually I'm going to take the lining out and make the hole bigger so I can wear it without it cutting off the circulation to my brain. I have a few pictures of the hat, I forgot to take some while I was putting it together, maybe I'll take some when I take it apart. They'll be up soon.
July 25
I finally fixed this hat! I took apart the crown and thr brim, and made the hole in the brim a bit wider. Then I sewed the two pieces back together and hand sewed the lining in. Then I tacked one side up and taped (shhhhhhhhhh, but it's working so far!) a feather on the side to complete the look. Pictures of the finished hat: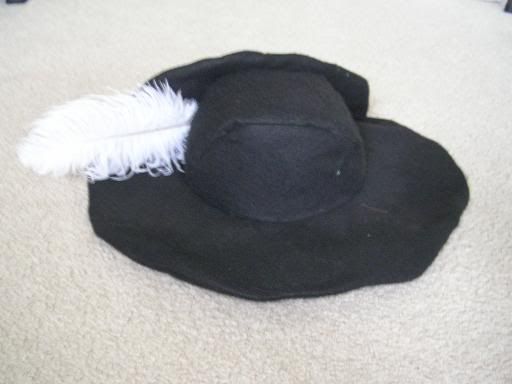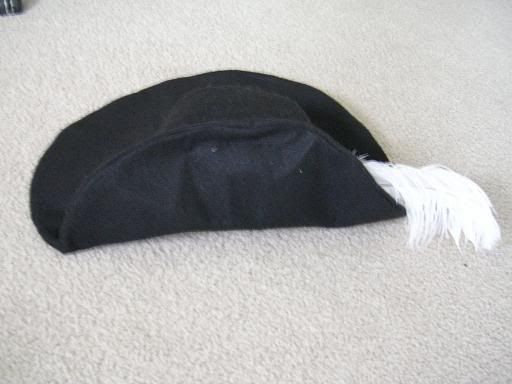 To see pictures of me wearing my hat visit my
Pirate Page here