arya's tan costume
Scans from "The Making of Eragon" book:
In the
Making of Eragon
book, there is a bit about this costume from Sienna Guillory, the actress who plays Arya. "Kym [Barrett, the costume designer] and I had the same ideas about Arya. I think practically, and if Arya had been living in her clothes and riding with this egg for God knows how many weeks or months, she was not going to be spotless. So everything is worn and soft, the handmade boots are spotted and speckled and aged."
Higher Resolution:
Observations:
Bodice:
There are two variations of the bodice. One is beaded and one isnít. In this picture besides the longer beads, there are also smaller, rounder ones. This picture takes place during a dream sequence in the movie, so it makes sense that the bodice would be more sparkly and dream like.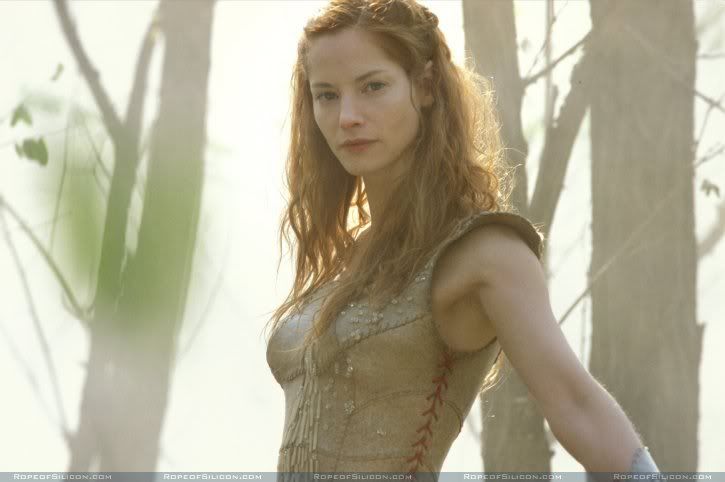 The rest of the time, the tan bodice only has the long beads on it.
The bodice looks to be made of leather topstitched together. It is thick enough to keep its shape, but it does bubble when she moves, as can be seen in some pictures. The sides and back are laced together in red.
Skirt:
The skirt is fitted at the waist and flares out by use of gores to just above the knee. The skirt is tan at the waist and fades to gray around the hips. The coloring of the skirt also varies in the pictures. The bottom is unhemmed and is fraying. The skirt may be a linen or raw silk.
Cloak:
In some scenes Arya wears a tan linen cloak over her outfit. The cloak is hooded and ends at her knee at the same place as the skirt. It appears that the sleeves are raglan and her left sleeve is only elbow length. The right sleeve is full length. There are several designs in white cording that end in swirls.
Arya also wears knee high tan boots and a tan arm guard on her left arm that matches the leather of her bodice.