low budget superman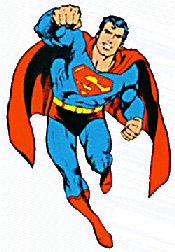 Started/completed: May 17, 2006
My brother came to me 2 nights before his school's variety show and asked me to make him a costume. He and his friends were singing a song dressed up as various superheros, and he was Superman. Being the nice sister that I am, I said I would make him a costume. I actually only made the cape, logo, and belt for the costume. The blue bodysuit was just blue underarmor that he already had.
Materials:
1 yard shiny red fabric remnant from JoAnns
1 sheet of yellow felt
1 sheet of red sticky-backed felt
The Cloak:
All I did to make this was hem the two sides of the fabric remnant and gather the neckline. I then pinned the cloak to the shirt with safety pins, since he needed to be able to use the shirt after their performance. The material was really weird, kind of plastic-y, but it was cheap, which was what we were going for and shiny, which looked nice on stage
The logo:
I found a Superman logo on google and enlarged it to the right size. Then I printed it out and traced the pattern onto the red and yellow felt. I cut the red felt in the polygon shape so it was all one piece. I did this because the back of the red felt could be peeled off and it was sticky, this way he could just stick the whole logo onto his shirt and we wouldn't have to sew it on. I cut the various shapes out of the yellow felt and hot glued them to the red. We the stuck the whole thing onto the shirt.
The belt:
The belt was made be taking leftover strips of the yellow felt and sewing them together. The belt doesn't actually close in back, there wasn't enough fabric. So it just pins to the bundies. Which is fine because the cape covers it anyway. After I had the long yellow belt, I took retangles of the red felt and stuck them on to imitate belt loops. And that was that.
So in all, a very simple costume and all for under $10. I was told that it looked good from stage and he got a few compliments on it. Which made me happy. Here is a picture of the costume: